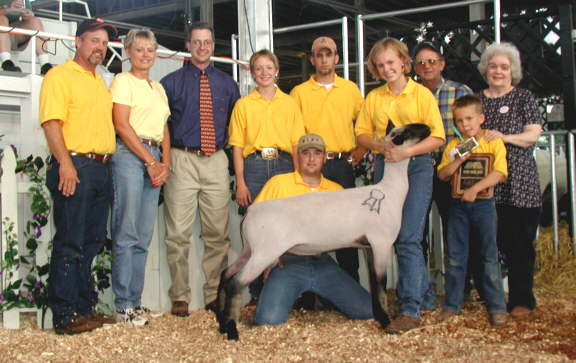 Supreme Champion ram Midwest Classic Wether Sire Sale purchased by Nothdurft Club Lambs The twin sister to the Dam of the Supreme Champion sold in the 2000 Fall Nationwide Lamb Sale as an Exposed ewe. Her ear tag was 97-762G The Quality for the 2001 sale will be as good.
Comet and his ewes on a foggy morning
Ewe Lead Class Oklahoma Spring Fair
Reserve Champion Hampshire 2001 Tulsa State Fair


Hamps 472-14-515-361 (Shrop-R507) Hamps 557-453-135 (Shrops R20-R60) Wether Sire Prices were up at Sedelia this year. Look at ewes in the July Production Sale, July 13, 1 pm Clinton Oklahoma to produce quality like these.
VISIT MAP PAGE FOR LOCATION OF SALES
Fall Nationwide Lamb Sale October 13, 2001 1 p m Custer County Fair Grounds Clinton Oklahoma 45 head of exposed ewes Registered Hampshire and Shropshire yearlings ewes. 350 head of young wethers for the winter and spring shows. Consignors include Harrell/Rhodes; Mason Club Lambs; Skip Wilson; Johnson Club Lambs; Cabaniss Club Lambs; Abbott Club Lambs, Fink and Farris, Double F Mickey Burns, McGolden, Ott Club Lambs, Hurliman and many others
Sales for 2002 at Custer County Fairgrounds
Big 4 Lamb Sale April April 20 1 p m
Super Star Lamb Sale May 18 at 6 p m
Nationwide Lamb Sale June 8 at 6 p m
Cabaniss Production Sale July 13 1 pm
This cartoon was given to us 20 years ago.
It has been on the refrigerator door.
This seemed like the perfect time to share it with you.
We have a nice selection of rams for sale
We will have a strong consignment at Sedelia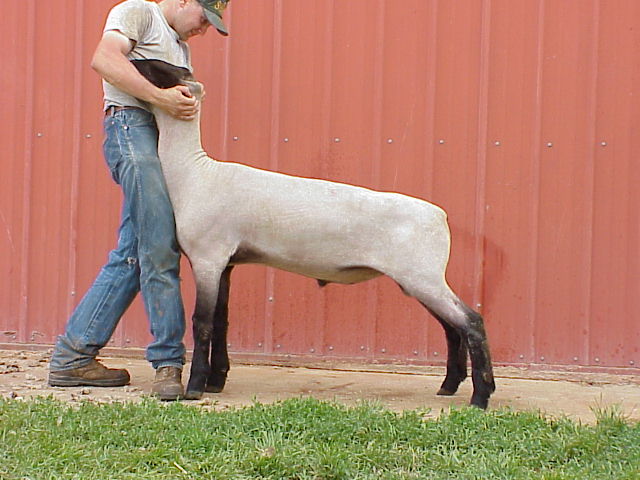 This is our 118 ram. He has been tested for the spider gene and is NN clean.

Reserve Grand Champion Lamb 2000 NAILE a 118 son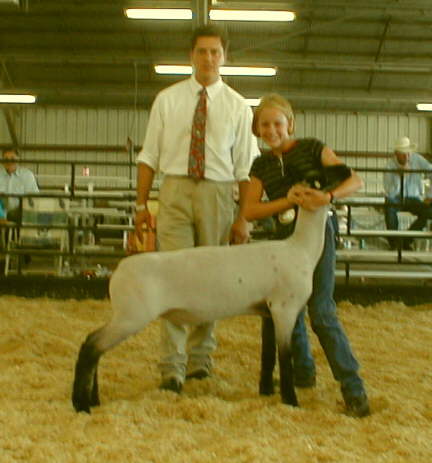 A 118 son - - Grand Champion Wether at the 2000 Oklahoma Sheep and Wool Producers Summerfest. 400 sheep there. Madison Cabaniss showing He was Champion Hampshire and Reserve Grand Champion at the Oklahoma State Fair He won his class and Made the premium sale at the 2000 Tulsa State Fair.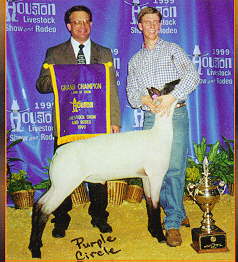 This wether is out of a Cabaniss ewe. The Fall Nationwide Sale October 13 1pm will feature 60 exposed Registered Hampshire Ewes. 350 late spring born wethers from top wether producers. Click on the Grand Champion at Houston to see more winners out of Cabaniss Breeding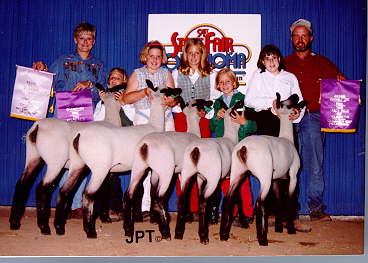 Champion Hampshire flock State fair of Oklahoma build consistency into your flock. We have kept registered Hampshire sheep since 1960 we have computerized records on a flock of almost a thousand ewes in production. We have the record of the ewe, her dam, her grandam, pedigree at our fingertips. Click on the picture to go to the 2001 Cabaniss Club Lamb Production Catalog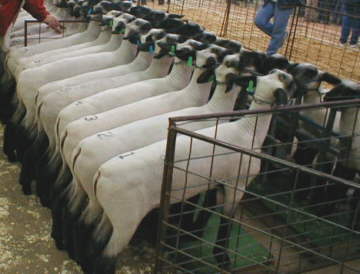 The first 10 Cabaniss Lambs in the 2000 Big 4 Lamb sale They sold to Nebraska, Kansas, Ohio and Oklahoma #7 was the Reserve Grand Champion at the 2000 Louisville Kentucky show Cabaniss also sold the Champion Shropshire at Louisville. Johnson Club Lambs Gotebo (a consignor to the Big 4) also had two champions at Louisville and Grand Champion in the Big 4 Other consignors are Karen and Jim Mason and Allen and Andy Moffet Click on picture to see more winners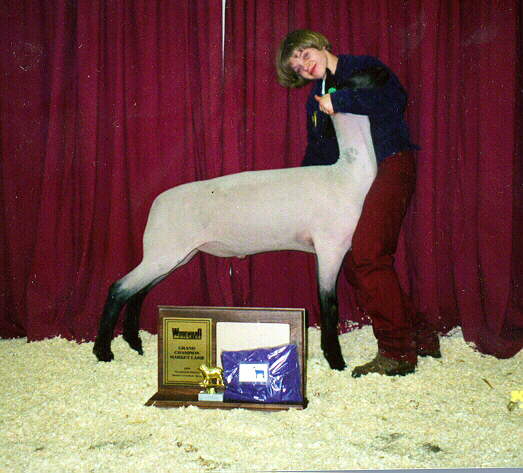 1999 Woodward District Grand Champion, Kayla Karber, Balko Ok We wish Kayla good luck.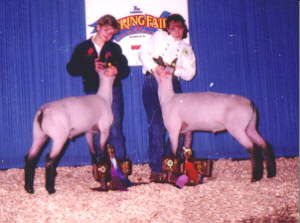 Champion and Reserve Champion Shropshire at the 2000 Oklahoma Spring Fair Shown by Kayla Karber and Jennifer Long We had 7 first place lambs at the show several 2nds and 3rds
We strive to produce consistency
Look for Shropshires at 2002 Midwest Classic Sedelia
Morgan Cabaniss Shropshires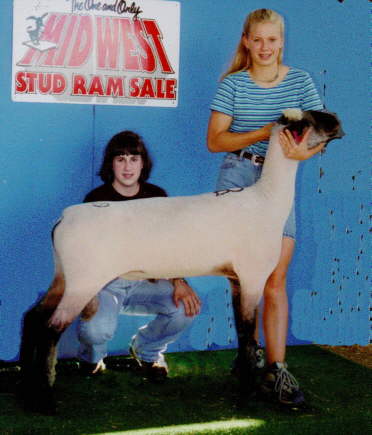 Champion Shropshire Classic Wether Sire at the 2000 Midwest Stud Ram and Ewe Sale Sold to Tara Tannahill Tulsa Oklahoma $6100. More Shropshires on their page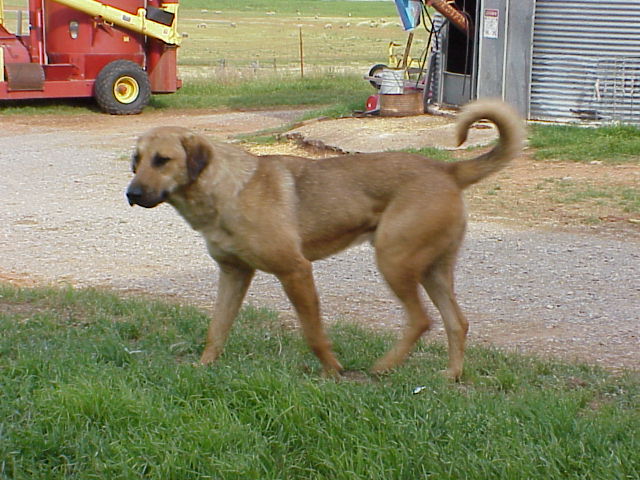 The Anatolian Livestock Guard Dogs have done an excellent job for us. Our dogs developed in the Kangal area of Turkey. We have both Cougar and Coyotes in the area. We have 2 brown male dogs a large spotted male and 3 spotted females and 2 brown females born in 1999 Thank you for your interest. We have puppies ready to go in Novemer 2001 E-mail if interested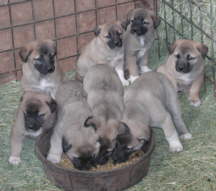 We have a litter of 9 born Oct 15 2001

............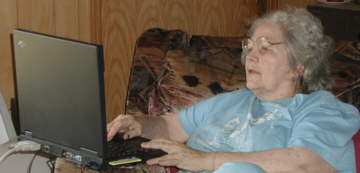 ..............

More new web pages coming up
Supreme Champion Ewe at the 2001 Oklahoma Sheep and Wool Producer's Summerfest held at Stillwater. The Supreme Champion Ewe was bred by Stan Rader, Illinois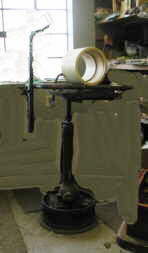 The large window makes a wonderful place to work tailing lambs (not too good to take pictures against). The head piece was on a 1960's blocking stand used by Leonard Hunter at Cordell and Kingfisher ok, it is small enough for a lamb head the wire sides that cradles the lambs head do not show. An old truck wheel is the base. Joe thinks the shaft came from a combine header. The stretched steel table is 26" by 13" There is a 11x18" cookie sheet potty tray below the table. The tube is a 10" pipe connector (with the pipe glued inside)The tube is attached to the table with Baling Wire which gives it a 4 or 5 inch adjustment. (I now use double wire, the wire broke and the tube ended up on my toes) The tube might not have to be that heavy. The front feet go just under the head holder and the back feet behind the tube. a 13" bungee goes from one side of the tube over the lamb to the other side. It took two sons to put it all together for a wonderful birthday present.